UK's No.1 Authentic Sir Elton John Tribute Act
Elite Elton is a Professional Elton John Tribute Act with an uncanny, authentic resemblance (as mentioned on the BBC and seen on ITV's Britain's Got Talent) in looks and voice to Sir Elton John, one of the most iconic Superstars of all time. 
Elite Elton can perform Solo or with "The Elton John Experience" (4 Piece Live Band).
Elite Elton, Award Winning Finalist At The National Tribute Music Awards 2019 has performed at many prestigious venues as an Elton John Tribute and appeared on TV and Radio across the World in Continents such as U.S.A, Australia, Europe and The Middle East.
A remarkable Elton John Lookalike and Soundalike, Elite Elton's Tribute Act performs Live Piano with Professional Musician Backing Tracks or "The Elton John Experience" (the only Elton John Tribute Band with some of the finest musicians in the UK performing Live Piano, Live Drums, Live Bass, Live Guitar and Vocals alongside genuine Orchestra, Brass, Percussion Click Tracks).
Elite Elton and "The Elton John Experience" perform a huge repertoire of Sir Elton John's Famous Songs for any type of function, large or small, with a Full Stage Sound, Backdrop, Lighting, State of the Art P.A, a beautiful Baby Grand Piano and Authentic Stage Costumes, to make your occasion unique and unforgettable.

Song List
The Bitch Is Back
Circle Of Life
Daniel
I Guess That's Why They Call It The Blues
Rocket Man
Something About The Way You Look Tonight
Sorry Seems To Be The Hardest Word
Are You Ready For Love?
Bennie And The Jets
Can You Feel The Love Tonight
Candle In The Wind
Philadelphia Freedom
Tiny Dancer
Goodbye Yellow Brick Road
Honky Cat
Crocodile Rock
Don't Go Breaking My Heart
Don't Let The Sun Go Down On Me
I'm Still Standing
Nikita
Sad Songs
Saturday Night's Alright For Fighting
Your Song
Pinball Wizard
Sacrifice
Kiss The Bride
…And Many More!
Previous Clients
As well as appearing on Television Channels Worldwide (including Live BBC News and BBC Radio), Elite Elton has performed at various venues including:
The London Palladium
John Lewis Store Xmas Party, London 
WH Smith, St Pancras International
Wellington Hotel, Ireland 
Llechwen Hall Hotel, Wales
Jury's Inn Hotel, Scotland

Club Meena Sadiyat, Abu Dhabi

Leatherhead Theatre, Surrey 
Maidenhead Theatre, Berkshire 
Portland College, Leicestershire 
Lyons Company, Berkshire 
Hadlow Manor, Kent 
Reigate Manor, Surrey 
Woking Church, 100 Piece Choir, Surrey 
Claygate Village Hall, Surrey 
Legends Festival, West Sussex

Cadence Design Systems, Berkshire

Dudsbury Golf Club, Dorset

Genesis Cinema, London E1

R/GA Design and Technology, London EC2

Alexander Arts Centre, Kent

The Bierkeller, Maidstone

Kikirocs Cafe, East London 
Ruchi Indian Restaurant, Middlesex 
Ring Of Bells Public House, Somerset 
Durham Cathedral
Abergavenny Castle Music Festival
Southampton Premiership F.C

Natural History Museum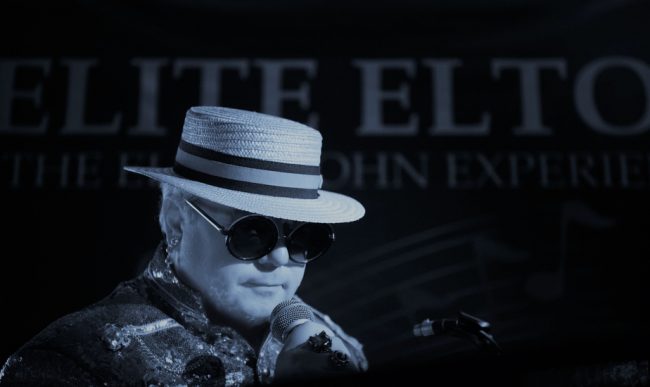 You were brilliant, best Tribute I have ever seen
Well done last night, really impressive
We were inundated with staff saying how much they enjoyed the event
You sound and look like the real deal
Arise Sir Elton! The best Elton Tribute Ever!
The members loved it and we look forward to seeing you again soon
Some Facts About The Real Sir Elton:
2020 Won an Oscar for Best Original Song 'I'm Gonna Love Me Again'

2020 Won a Acadamy Award for Best Original Song 'I'm Gonna Love Me Again'

2019 Won a Golden Globe for Best Original Song 'I'm Gonna Love Me Again' 

2019 Awarded Order Of The Companions Of Honour (Only the Sovereign Queen and 64 other people in the World hold this honour)

2019 Awarded 'The Legion Of Honour' The Highest Honour for France

2019 Published Autobiography entitled 'Me' The first and only Publication of Memoirs

2019 Release Of RocketMan Film grossing over $200 Million Worldwide in Cinema receiving several Awards

2013 Ranked the most successful Billboard's Male Act of 100 Top All Time Artist

2013 received his Rockefeller Foundation Lifetime Achievement Award

2004 Received an Kennedy Centre Award

2002 was awarded with an honorary doctorate from the Royal Academy of Music.

1998 Elton John was Knighted by The Queen to become Sir Elton John.

1994 Entered The Rock 'n' Roll Hall Of Fame

5 Grammy Awards, 5 Brit Awards, 3 Ivor Novello Awards, Tony Award, 2 Acadamy Awards

He has had 57 top-40 hits in the US and is the third most successful artist in American chart history after Elvis Presley and the Beatles.
Sir Elton has sold more than 300 million records worldwide and achieved 38 gold and 31 platinum or multi-platinum albums.
He also holds the record for the biggest selling single of all time, with Candle In The Wind released in 1997.
The Elton John Aids Foundation

 was established 

in 1992 in the United States and 1993 in the United Kingdom.

Has raised over £300 Million for the Elton John Aids Foundation 

Link: The Official Elton John website
The making of a tribute act can be difficult and these things tend to be magnified in importance when deal with an artist tribute as legendary as Elton John. Hopefully the tips mentioned here will help you when setting up your Elton John tribute act and making it onto one that people will talk about for years to come.
Taking care of the initial planning should be your second step. Make a set list of songs that you would like to have played at the event, how long its going to be, the amount of money you're willing to spend to make Elite Elton spetacular.
Once you have decided all of those details, you can then alert your audience of the plans that you have so you can have a general idea of how many people are going to be in attendance. Choose a venue that will have enough space for the amount of people you're expecting to attend. Its better to have too much space than too little.
Of course, you'll need a crew to help you set up the stage and take care of the lighting and audio for the big day. While this can cost you a little and finding companies who have people to do the job for you, its more important to make sure that you go with a company that you can trust. There are many companies nowadays that will promise you quality, but then send over people that don't know what they're doing. All you have to do is make sure that on the day of the event, you have good crew and security that can make your stage light up like never before and keep everyone who comes safe.
The hardest part of the tribute will be choosing your act. With so many options, it can be hard to make sure you're choosing an act good enough to perform to your standards.
So how do you choose the right person?
First, make sure that the person you're hiring has a similar look and feel to the artist. Nothing worse than having a tribute who doesn't even remotely sound or dress like the real thing. People pay money to come see someone who can accurately represent the person you're pay a tribute to. Your Elton John impersonator should have no problem dressing and singing like him.
Price can also come into play. Most people will tell you that "price doesn't matter", but the prices that some tribute acts will charge for the amount of stage time and overall performance is a little insane. Someone who uses a backing track along with their own vocals just won't have the same punch as someone who can really perform. If your act uses a real band or can play the instruments himself, justifying a higher price may be understandable if you're really looking to take your event to the next level. Sometimes you have to dish out a little more to get the better quality person.
Your act should feel comfortable on stage for a long period of time and should not mind working alongside you to create an unforgettable set, because not only do you want to make the night unforgettable, your act should also have a natural passion for making people happy. So make sure you choose a few of these candidates, so in case one doesn't work out to your liking, you can fall back on other options and choose the best one for you.
Interviewing your act is a must. Someone could easily advertise themselves one way and then show up and perform in another. Ask about how they interact with the artist, have them play a few songs so you can see exactly how they're going to perform on event day, and talk about pricing and the length of time it will take to get everything perfect beforehand.
So, while it takes a lot of planning and making sure that you don't get screwed over by any of the companies that you work with in the process, setting up a tribute like Elite Elton can be very rewarding of you take the time to make sure that the act you're going with is going to put on their best, most convincing performance.